Course Map
View the 2021 course at Jug Mountain near McCall, ID.  
Registration
Registration is open until January 21st!
Results
Live results are available on race day!  Follow along at the link below.
2021 McCall Re-Mastered Information
Saturday, January 23rd, 2021
Jug Mountain Ranch

15k and 30k, on a 5k loop course
15k Interval Start at 9:00
30k Interval Start at 10:00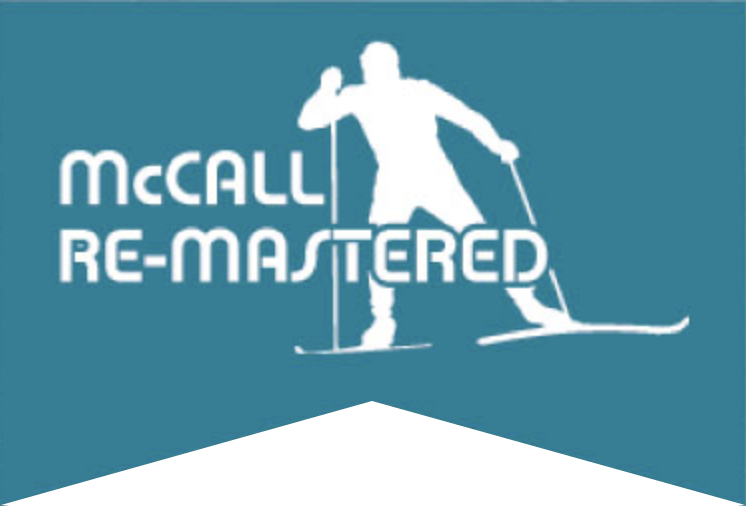 Registration
2021 McCall Re-Mastered registration is now open.
The event will be capped at 75.  The last day to register is Thursday, January 21st.  
Packet Pick-up
Packet pick-up will take place the day before the race, Friday, January 22nd, from 2 pm to 5 pm at the Jug Mountain Clubhouse. 
Morning-of packet pick-up will be by prior request ONLY.  Packet pick-up will be drive-through only. 
Racers will be greeted at their car and given their packet.  This is to prevent further congregation.  You will get to view the race start area and parking options during packet pick-up. Racers will receive their single-use pull-over tyvek race bib with their unique start time written on the front of the bib.
Classes
Ten year age classes: Under 19, 20-29, 30-39, 40-49, 50-59, 60-69, 70+
Mens and Womens classes.
Registration Costs
Registration:  $40
Youth Racer U16 (15 and under) 15k Only:  $20
Registration closes Thursday, January 21st!
Contact
EMAIL
mccallremastered@gmail.com
(email communication is preferred)
PHONE 208.315.0063
McCall Nordic & Biathlon Ski Club, Inc.
PO Box 1821
McCall, ID 83638
Course & Distance
All persons in the vicinity of the Start/Finish line are required to wear face coverings over both their nose and mouth AT ALL TIMES. Thank you for your compliance. The 15k will begin at 9:00 am with an individual interval start. The 30k will begin at 10:00 am with an individual interval start. Intervals begin at 9:00 am and occur every 20 seconds. 
Individual start times will be spaced 20 seconds apart, and sequenced by bib number. Bib numbers 1-50 will start between 9:00 and 9:15 am. Bib numbers 51-100 will start between 10:00 and 10:15 am. Racers will arrive at the start line, and be filed into a flagged chute leading them to the starting line. Please be prompt in your arrival to the start line. Volunteers will ensure you enter the chute in the correct order to properly reflect your personal start time.
The 2021 Re-Mastered will not have a classic track set due to snow conditions, lap length, and course trail width to ensure the safety of all racers.
A single aid station will be placed at the lap adjacent to the Start/Finish line. Water, HEED, and Hammer energy gels will be offered. Four tables, each stocked with the same amenities, will be available to allow for ample spacing while receiving aid. Racers are required to put their face coverings (buffs are okay) back over their nose and mouths while receiving aid.
The 2021 McCall Re-Mastered will not host a post-race awards ceremony or offer post-race food.  These changes are in response to current COVID-19 protocol as determined by the local health department.  We appreciate your understanding and look forward to resuming this fun tradition in 2022!
Google map directions from the center of McCall, ID, to Jug Mountain Ranch Clubhouse.  For custom directions, you can use 44.838, -116.025 for the start area.
Parking
Parking will be available adjacent to the Start/Finish line on the south side of the main road below the Clubhouse in the meadow, as well as up at the Clubhouse in the main parking lot.  Those who attend packet pick-up on Friday will be able to preview their parking options.  Volunteers will be available on race day to provide parking direction.
The 2021 McCall Re-Mastered will take place in a modified format to adhere to current COVID-19 protocols, but is subject to change or cancel in response to local health department mandates.  In contrast to previous events, there will be no post-race food offered, nor will there be an awards ceremony.  These changes are to discourage congregating around the Start/Finish area. Face coverings will be worn by racers, volunteers, and spectators at the Start/Finish and Aid Station areas.  Racers will wear face coverings during the race start, but may remove them once dispersed on-course.  These measures are in place for the protection of all participants and volunteers.  Your cooperation is greatly appreciated.